We will take you on a step-by-step guide to booking loads.
The 'Loads' page is where you will start your search for loads. Define your load search with all key information such as truck type, pick-up & drop-off location, load size and type, etc.. You can adjust the deadhead or select the drop off location to 'Anywhere' to widen your search results. Your recent searches will appear at the bottom of the screen.
Once you search for a load, you will be shown the best match for your search. You can sort searches based on load time, deadhead, rate etc. Once you find a suitable load, tap on it to view the information page. You can see the average rate check for this route and calculate the fuel-surcharge rate with a few taps.
The broker/shipper may require you to book the load directly or bid for a load.
Bidding
Tap on 'Make a Bid' and enter your desired price. If you are an ultimate plan member, you can view the date, time and prices of previous bids. Your bid will be sent to the shipper/broker with your contact information, who may contact you for further information. You also have the option to contact the shipper/broker directly via phone or email.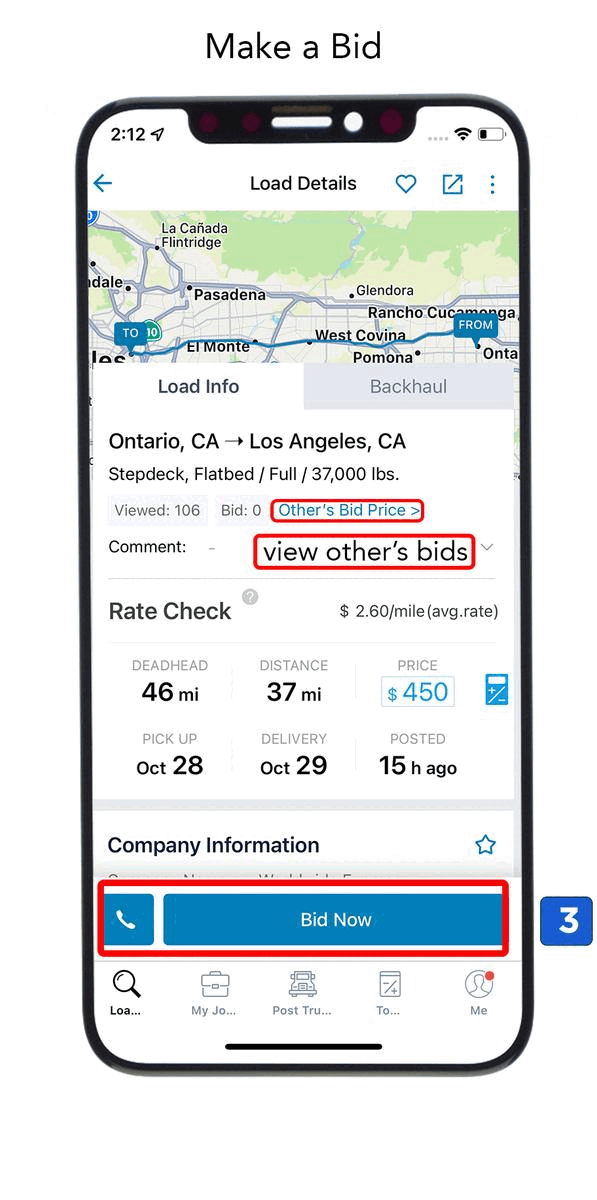 Booking
If your account has been verified and you have completed the onboarding process with the broker/shipper, you will be able to book the load immediately.
If not, you will need to complete the onboarding process with the broker/shipper. The process may take a couple of hours depending on the broker/shipper, etc. Once the onboarding is complete, you will be notified of the result.